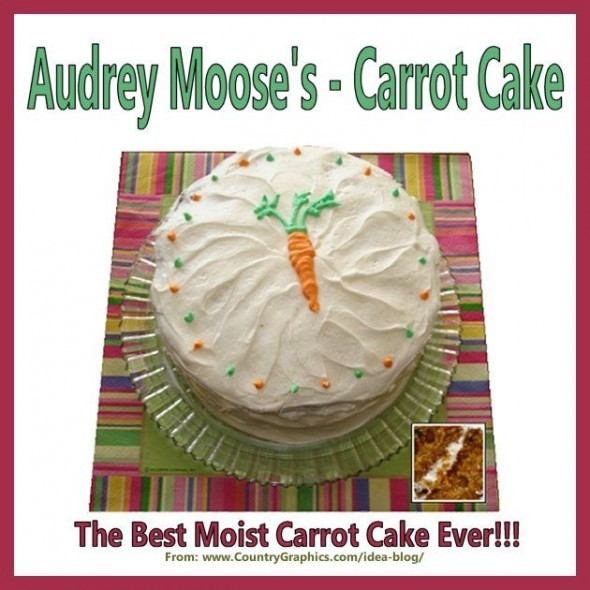 Audrey Moose Carrot Cake
This is the best moist carrot cake ever!!!
This is the recipe that everyone keeps asking for, Audrey Moose Carrot Cake. We have tasted more carrot cakes then you can imagine over a span of 60 years and nothing compares to my mom's carrot cake.
carrot cake ingredients
2 cups sugar
1 1/2 cups vegetable oil
4 eggs
2 cups flour
2 tsp baking powder
2 tsp baking soda
2 tsp cinnamon
1 tsp salt
3 cups carrots coarsely grated
1/2 cup chopped English walnuts
carrot cake directions
1. Add sugar and oil together then add eggs one at a time and beat till creamy.
2. Sift all dry ingredients together and add slowly into creamy mixture.
3. Add carrots and nuts last.
4. Pour cake batter into 2 greased and floured 9″ round cake pans.
5. Bake at 350 degrees for 50 minutes or till done.
6. Let cakes cool before frosting the cakes with the icing.
icing ingredients
1 box powdered sugar.
1 lg pkg Philly cream cheese soften to room temperature.
1/2 stick butter soften to room temperature.
2 tsp vanilla
 icing directions
1. Place cream cheese and butter in mixing bowl and blend together.
2. Gradually add the powdered sugar to the blended butter and cream cheese, add vanilla blend in.
Sweet Times Always – Thank you for supporting Country Graphics™!
Family Recipes by © COUNTRY GRAPHICS™ and Friends of Country Graphics