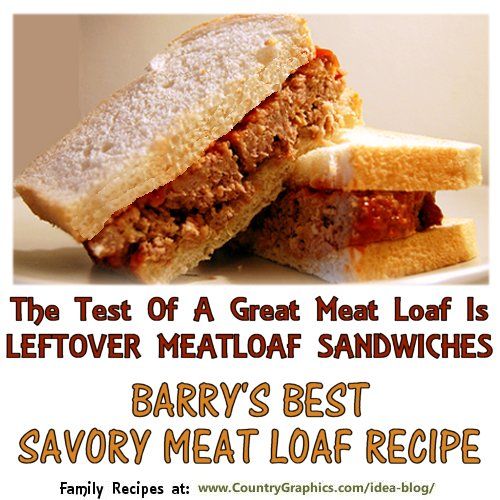 Best Savory Meat Loaf Recipe by Barry
We love cold meatloaf sandwiches in our family and this savory meatloaf stands up to the Pearce Family meatloaf sandwich test. Finally our perfect recipe was created in 1994 and we only tweak it from time to time with different mustard.
Savory Meat Loaf Ingredients:
2 lb Ground Chuck
1 medium Onion, finely chopped
2 Eggs, beaten
1/4 cup Milk
2 TBLS Worcestershire Sauce
3 TBLS Brooks Ketchup
2 TBLS Plochman's Yellow Mustard
1 sleeve Zesta Saltines crumbled
1 TBLS Italian Seasoning
1/2 tsp Salt
1/2 tsp Pepper
Meat Loaf Topping:
1/4 cup Maull's Barbecue Sauce
Meat Loaf Directions:
Preheat oven to 350°F.
Combine ground chuck, onion, eggs, milk, Worcestershire, ketchup, mustard, saltines, italian seasoning, salt and pepper in large bowl.
Using your hands, combine ingredients. For a tender meat loaf, do not over work the meat.
Meat Loaf Baking Directions:
Place in 9×5-inch non-stick loaf pan, gently pressing down to evenly distribute meat mixture.
Bake 350°F, covered with foil, 1 hour or until the meatloaf is cooked through.
Remove from oven and carefully drain any excess grease.
Pour Maull's Barbecue Sauce over meatloaf.
Bake an additional 10 minutes uncovered.
Remove from oven and allow to rest 10 minutes before slicing to serve.
Refrigerate leftover meatloaf for sandwiches tomorrow.
Meat Loaf Recipe Notes:
Use PAM® Original No-Stick Cooking Spray for glass loaf pans.
Try this recipe using the Rachael Ray Oven Lovin' Non-Stick 2-Piece Meatloaf Pan Set
Double the meatloaf recipe and freeze one for cooking at a later date.
To make the perfect cold meatloaf sandwich you need a good quality bread, butter, and a swipe of Coleman's Prepared Hot English Mustard. We have never put Coleman's in the meatloaf, it is reserved for sandwiches.
Mustard List
When we travel we pick up mustard along the way and try them out in our meatloaf recipe. I have only created a list of mustard types we have used in our recipe, that you can usually find at your local supermarkets.
Mild Horseradish Mustard
Plochman's Yellow Mustard
Grey Poupon
Maille Traditional Dijon Mustard
Kosciusko Spicy Brown Beer Mustard
Coarse Grained Mustard
Stone Ground Mustard
Spicy Brown Mustard
Boar's Head Deli Style Mustard
Good Family Times Always – Thank you for supporting Country Graphics™!
Family Recipes by © COUNTRY GRAPHICS™ and Friends of Country Graphics