Welcome to Country Graphics Information
– www.CountryGraphics.INFO –
Supporting  Graphic Artists & Use of Graphic Products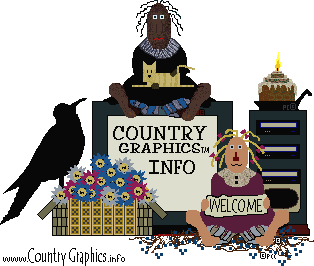 Goals at COUNTRY GRAPHICS INFORMATION™ :
Country Graphics Information™  has a goal to develop an online presence to support graphic artists and to promote how to use graphics in your home & business.

The information side of Country Graphics™  will contain links to graphic design tutoring and articles to help out the  graphic community, as well as nurture new and upcoming graphic artists.
We want to bring our patrons in on this too, by giving you access to how we work at bringing you the best graphics and what software programs are available to work with our graphics.
The End Goal is community support for  Graphic Designers & Graphic Users: 
The hope is that you the graphic artist, will find tips on graphic design, building an effective website to promote your graphics, learn from others mistakes, and grow from other graphic artists learning experiences.
Graphic users will find information on how to effectively use graphics in scrapbooking, crafts, business uses and more.
WHERE TO GO NOW FOR MORE INFORMATION
Country Graphics™ IDEA BLOG & Country Graphics Directory™ 
Blog Category "Country Graphics Information™ "
Find  graphic artist tips and tools, graphic projects, and more. Go to Category Country Graphics Information™
Country Graphics Directory™ :
We need articles on ways to use graphics; such as scrap booking, crafts, school projects and more. You can add your articles directly to our new Country Graphics Directory. Join today and add your artist bios, write your own articles, and promote your website at Country Graphics Directory™ .
Links & articles to help the graphic artist and graphic user community.
Found in the Country Graphics Directory™ & Idea Blog