GRAPHIC CLUBS INFORMATION
WELCOME COUNTRY GRAPHICS CLUB ™ INFORMATION
Country Graphics Clipart
Free Club & Paid Club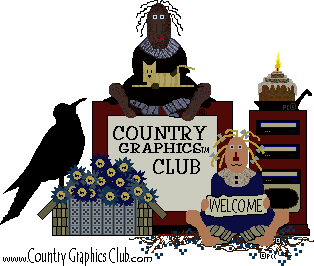 GO TO OUR GRAPHIC CLUBS WEBSITE NOW
ABOUT COUNTRY GRAPHICS™ GRAPHIC CLUBS
All of our country & primitive graphics are family friendly & useful to teachers, crafters, businesses, fundraisers, & family fun projects :-)
Most of our clipart graphics were designed for Business cards, Stationary, Small Projects and Online Website Use (72 DPI) GIF format. We have a variety of websets and hundreds of backgrounds to choose from. Many styles of banners and business cards and so much more!
Samples Paid Graphic Club Gallery
We are the home of the the original free "Country Graphics Club" and the paid membership "PCC Country Graphics Club"
Country Graphics ™ came online in 1999.  Our first country graphics were designed in 1994 for our friends and our Pearce Country Collectibles ™  giftware customers in Calgary, AB Canada.
The free club was a way of giving back to all those that had helped us along the way. Church Organizations can request a FREE membership into our PAID "PCC Country Graphics Club ™".
All of our country clipart graphics are mouse drawn originals. I personally love watermelons, so you will see a lot of watermelon graphics sprinkled thru-out both of the graphic club sites. We offer the best country clipart collections in our paid graphics club for our club members to use only.
Join today! GO TO OUR GRAPHIC CLUBS WEBSITE NOW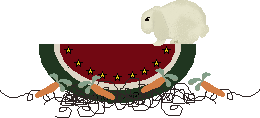 FREE WATERMELON BUNNY GRAPHIC
This graphic is mainly meant for web use, but may be enlarged a small amount for printing. (72 DPI)
You may right click and "save image as" to your own computer, please give credit to Country Graphics™