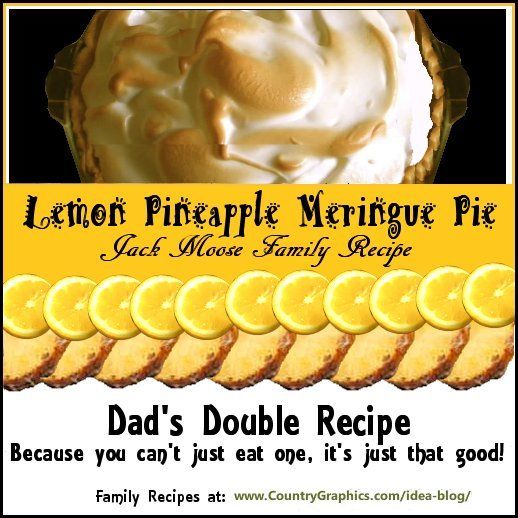 Lemon Pineapple Meringue Pie by Jack Moose
I have doubled the recipe of the Lemon Pineapple Meringue Pie by Jack Moose because you can't just eat one. Dad use to make this Lemon Pineapple Meringue Pie for me EVERY TIME I flew in for a visit. I always knew there would be one waiting for me and he usually had to make a few so the rest of the family could enjoy this scrumptious pie too!
I asked Jackie if we should make a couple this weekend and the answer was NO… she is on a diet and knows that this pie is not for dieters. The pineapple is not the problem, it's that rich lemony pudding base along with the addictive thought that you can't just eat one slice of this pie, it's that good.
This recipe has been in our family for over 50 years and it's time we put it online for safe keeping, because the little black book that contains our family recipes is about to fall apart.  Check back often and look forward to seeing more of my family's famous and most requested recipes online.
Double Recipe for Lemon Pineapple Meringue Pie by Jack Moose
Lemon Pineapple Meringue Pie – Filling Ingredients
2 pre-baked 9″ deep dish pie shells
1 tsp salt
2/3 cup flour
2 cups sugar
6 large eggs, separated save whites for meringue
2 2/3 cups of water
2 grated lemon
6-8 TBLS lemon juice
4 TBLS butter
1 (20-oz.) can crushed pineapple, drained
Lemon Pineapple Meringue Pie – Filling Directions
1. Place dry ingredients in bowl and mix the 1 tsp salt, 2/3 cup flour, and 2 cups sugar with a fork
2. Slightly whisk 6 egg yolks in a deep heavy saucepan then whisk in the 2 2/3 cups of water.
3. Place egg mixture on medium heat and gradually whisk in the dry ingredients. Constantly whisk the pudding.
4. Add the grated lemon and lemon juice. Continue whisking the lemon pudding till it starts to bubble. Lemon pudding should be very thick.
5. Once lemon pudding has become thick remove from heat and add 4 tablespoons of butter and blend. Start your meringue while the pudding cools down.
6. After the lemon pudding has somewhat cooled down add the drained crushed pineapple and blend into the lemon pudding.
7. Spoon filling into pre-baked pies shells and seal each pie with the meringue.
Lemon Pineapple Meringue Pie – Meringue Ingredients
6 egg whites
4 TBLS Sugar
1 pinch Cream Tartar
Lemon Pineapple Meringue Pie – Meringue Topping Directions
1. Beat egg whites at high speed with an electric mixer until foamy. Add remaining 4 tablespoons of sugar, 1 Tbsp. at a time, beating until stiff peaks form and sugar is dissolved.
2. Spread meringue over filling, sealing edges.
3. Bake at 350° for 10 to 12 minutes or until lightly browned.
4. Remove to a wire rack, and let cool 1 hour or until completely cool. Chill 4 hours. ( We usually could not wait this long)
Useful Pie Shell Information:
1 unbaked 9-inch deep-dish pie shell usually holds 4-cups . It is best to check on the pie shell box, because some brands only hold up to 3 1/2 cups by volume.
If you make your own crust the Volume of 9-inch pie DISHES: 9 inch by 1 1/4 inch = 4 cups, 9 inch by 1 1/2 inch = 5 cups,  9 inch by 2 inch "deep dish" = 8 cups
I love the pie shell by volume  info on the Oregon Live Website: Pie Shell Size Volume and How to add up the volume of ingredients in a Recipe.
Just a note about the recipe:
Jackie and I had a discussion about when to add the butter… at one time we added 2 TBLS to the cooking pudding  when we added the lemon juice and zest and then  2 TBLS when removing the pudding from the heat like it shows in the black book. For some reason in the last 25 years  or so we started adding ALL the butter at the end when we took the pudding off the heat. I don't think it matters because this lemon pineapple pie has always been delicious no matter what.
Wish you were here Dad, you know what I would be saying: "While your bent over there would you make me a lemon pineapple meringue pie. " Notice not a question… expectation, because he would!

Good Family Times Always – Thank you for supporting Country Graphics™!
Family Recipes by © COUNTRY GRAPHICS™ and Friends of Country Graphics