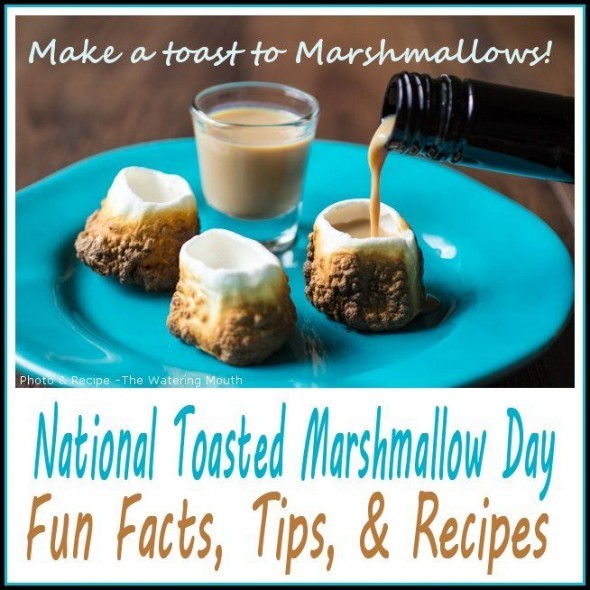 National Toasted Marshmallow Day
National Toasted Marshmallow Day is Tuesday, August 30 2016. I would like to share Marshmallow Fun Facts, Marshmallow Breaking Records, Marshmallow Festivals, and Marshmallow Recipes that I have gathered for your entertainment.
Fun Facts about Marshmallows:
Mallow is native to Asia and Europe and has been naturalized in America.
Americans buy 90 million pounds of marshmallows each year, about the same weight as 1,286 gray whales.
The modern marshmallow was created in France,
The marshmallow capital of the world is Ligonier, Noble County, Indiana.
Each summer more than 50 percent of all marshmallows sold are eventually toasted over a fire.
Americans spend nearly $125 million dollars on marshmallows each year.
The largest s'more ever made weighed 1,600 lbs and used 20,000 toasted marshmallows and 7,000 chocolate bars. The record was set on May 23, 2003 by Deer Run Camping Resort in Gardners, Pennsylvania.
Egyptian created the earliest marshmallow candy.
There really are Golf Tournament featuring Marshmallow Driving Contests
Marshmallow Tips
Stuff a miniature marshmallow in the bottom of a sugar cone to prevent ice cream drips. — Martha
The only safe gel product for directly roasting Marshmallows is marked "ethanol" on the canister. — Sterno
The perfect toasted marshmallow is cooked over glowing coals.
"Marshmallow Bake Off" is held in Ligonier, Noble County, Indiana. Consider Joining the Fun.
Store marshmallows in an airtight bag or container and they can even be frozen.
Throw away marshmallows that have an odd odor or color.
If the marshmallows are stuck, pour a little confectioners' (powdered) sugar or cornstarch in the bag and shake to coat. The marshmallows should just break apart. — Heloise
Avoid sticky marshmallow cutting problems by dipping your knife or scissors in hot water between cuts.
Marshmallow Recipes, Festivals, and Breaking Records
Marshmallow Searches
Use your own Marshmallow key word searches on your favorite search engine to find more Marshmallow fun facts, recipes, and creative Marshmallow Ideas. Have FUN :)
Happiness Always – Thank you for supporting Country Graphics™!
Calendar Events by © COUNTRY GRAPHICS™ and Friends of Country Graphics
Image is from Cheri at The Watering Mouth – check out her Marshmallow Shot Glass Recipe above.