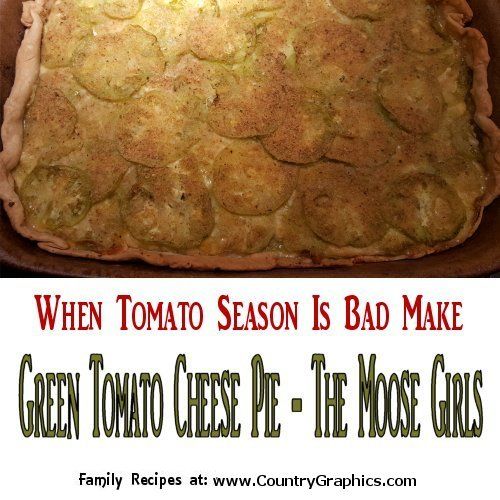 Savory Green Tomato Cheese Pie by The Moose Girls
When we are having a bad tomato season and all we seem to do is grow green tomatoes, we make our savory green tomato cheese pie. A few suggestions are in order: When ever possible use the early green tomatoes, when the skins are not so tough. If you are using late tough skinned green tomatoes then blanch them and remove the skins before beginning our savory green tomato cheese pie by the Moose Girls – Judy & Jackie.
Deep Dish Savory Green Tomato Cheese Pie Ingredients
2 Pillsbury Pie Crusts
4 cups Green Tomatoes (thinly sliced)
1 Medium Yellow Onion (chopped or sliced into thin rounds)
18 0z of favorite shredded and/or sliced cheese. (I used cheddar jack, Mexican blend, and gouda slices)
Garlic Pepper Seasoning Salt (Rural King)
Spike Seasoning (Dierbergs Store)
Fresh Basil Chopped
Italian Bread Crumbs
Spray Butter
Pam Spray
Deep Dish Savory Green Tomato Cheese Pie Directions
Slice the tomatoes as thin as possible and place onto paper towels.
Sprinkle the tomato slices with Garlic Pepper Salt and cover with another layer of paper towels.
Keep layering until you have around 4 cups of thinly sliced green tomatoes.
Set aside for 1 – 5 hours to allow the green tomatoes to weep.
Begin the recipe when the tomatoes are ready.
Preheat oven 350°F
Spray 9 by 13 Pampered Chef Casserole Dish add 2 Pillsbury Pie Crusts. This is rustic so no need to get fancy. Just place the crust in the dish and break off where overlapping and piece in where ever needed.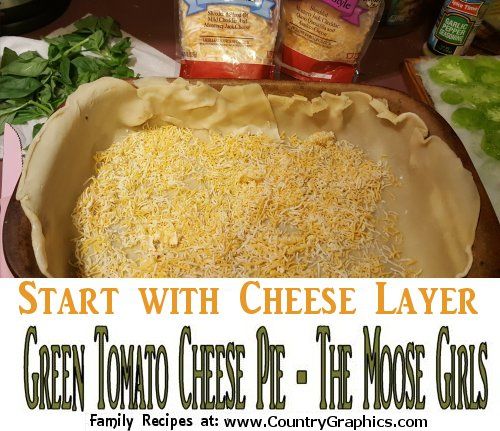 Layer pie shell with layering ingredients:
4 oz cheese, green tomato, basil, 4 oz cheese, green tomato, onion, sprinkle with Spike, 4 oz cheese, green tomato, 4 oz cheese, green tomato, 8 oz sliced cheese, green tomato.
Sprinkle final layer with Progresso Italian Style Bread Crumbs and then spray with the Can't Believe It's Not Butter! Original Cooking Spray.
Tidy up pie crust and bake.
Baking Directions:
Cover pie with foil bake at 350° for 55 minutes.
Remove foil check tomatoes for tenderness continue to bake 5-10 minutes to brown top.
Allow pie to rest for 15 minutes before slicing.
When plating the green tomato pie add a dollop of topping to each slice of pie.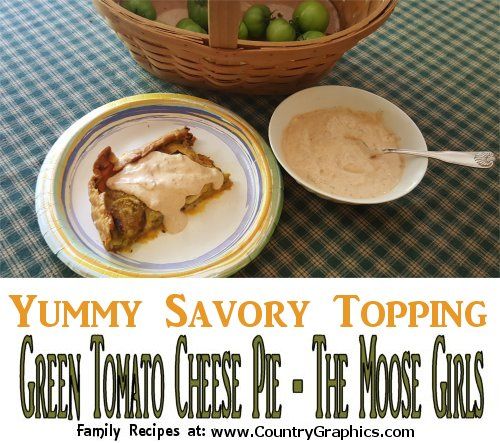 Deep Dish Savory Green Tomato Cheese Pie Topping
Green Tomato Pie Topping Ingredients
1/2 cup Mayonnaise
1/4 tsp Minced Garlic
1 TBLS Brooks Ketchup
2 tsp Whole Grain Horseradish Mustard
1/4 tsp Worcestershire Sauce
1 TBLS Dill Pickle Relish
5-6 Basil Leaves (chopped) or 1/4 tsp of dry basil
Sprinkle of Spike Seasoning (to taste)
Sprinkle of Paprika (to taste)
Pinch of Salt & Pepper (optional)
Spritz of Lemon (optional)
Good Family Times Always – Thank you for supporting Country Graphics™!
Family Recipes by © COUNTRY GRAPHICS™ and Friends of Country Graphics