Welcome to Country Graphics Organization™

Nourishing, developing, and enhancing the love; and study of country style graphics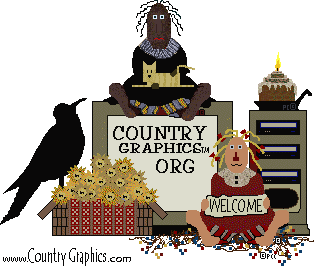 – Defining Country Style Graphics –
A Gathering of Country Style Graphic Artists & Graphic Design Artists
Country Style Graphics, Country Clip Art, and Country Web Graphics
Designed by various artists for crafters, gift shops, scrap booking, schools…
 Promote your website at Country Graphics Directory™
Goals at COUNTRY GRAPHICS ORGANIZATION™
Country Graphics Organization™ has a mission to bring more opportunities to all country style graphic artists.  Nourishing, developing, and enhancing the love; and study of country style graphics and graphic design.
The Country Graphics Organization™ hopes to create a resource center for both graphic artists and graphic consumers.
All over the world, new country graphic artists are exploding onto the internet scene to accommodate the growing demand of the country style graphic buying consumer.  Articles about the graphic artists and what defines their country style will be a top priority along with amassing an up to date directory of graphic artists from around the world.
All Graphic Artist are welcome to add their free link to our Country Graphics Directory. Create an account, create your own blog and write articles.
Graphic Fans are welcome to create an account (reciprocal link required) to start up a blog and write articles on how you creatively use country style graphics, discuss and rave about your favorite graphic artists.
Send your comments and suggestions :
We are open to suggestions and comments in accomplishing our goals.  What would you like to see happen on Country Graphics Organization, Information & Directory?
WHERE TO GO NOW FOR MORE INFORMATION
Country Graphics™ IDEA BLOG & Country Graphics Directory™ 
Country Graphics Directory™ :
We need articles on ways to use graphics; such as scrap booking, crafts, school projects and more. You can add your articles directly to our new Country Graphics Directory. Join today and add your artist bios, write your own articles, and promote your website at Country Graphics Directory™ .
Blog Category "Country Graphics Information™ "
Find  graphic artist tips and tools, graphic projects, and more. Go to Category Country Graphics Information™